​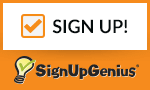 Volunteer Sign Up Genius

WE CAN NOT RUN OUR MEETS WITHOUT OUR AWESOME PARENT VOLUNTEERS!

This tab takes you to Sign Up Genius where you can sign up to volunteer at meets or help out with donations for team meals. ​You'll need to make an account first before signing up. If you are signed up ahead of time you get free admission to the meet!